Decorative Dog Garden Flag
---
Decorative Dog Hand Towels
---
Who is Bully Bows
Why Bully Bows? – The idea came after rescuing Kaighn, my amazing Pit Bull from a local shelter. He had a tough first year or two of his life and has settled very nicely into his new home.  Kaighn wanted the world to know the reputation of Pitties wasn't true.  Like so many other dogs in his predicament, he was treated poorly, fought to survive, and longed for the love and affection of a human companion. One day I found a clip-on bow tie and placed it on Kaighn's collar.  He received so many smiles and compliments on our daily walks.  From that day on I thought that all dogs should have an opportunity to wear their Sunday's best every day.  That is how the idea of Bully Bows was formed.  While the face of the company is bully breeds we love and service all pets and provide low cost high quality supplies for your best friend.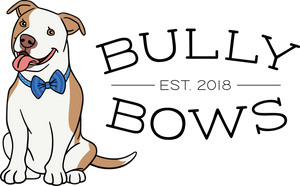 Our Mission
Our mission is to not only provide you with a great product but to also help dogs across the country.  Each month Bully Bows will be sharing a portion of its proceeds with different charities and shelters.  Monthly we will announce the name of the shelter or charity those proceeds will be going toward.  Your purchases will not only make your pet look great but help dogs in need.  Check out our website for details. www.bullybows.com Thank you for your support!
Contact Us
Please contact us with any questions about finding the perfect dog bow tie for your next holiday or wedding. We are happy to help!
Email- bullybows@yahoo.com